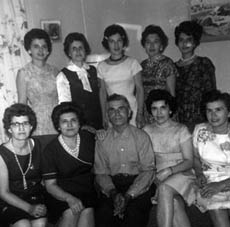 Félix Leclerc, orfèvre
This ancestor came to Canada during the 19th century. It is a pleasure for us today to introduce him to all the Leclerc. At first, we were almost certain that he had no descendant to carry on his name, however life is sometimes unpredictable.
The first time this ancestor's name was ever recorded, it was at his wedding on April 19, 1869 as ... "Félix Leclerc, goldsmith, son of Benjamin and Joséphine Gavion, from Sesval, France, married Obéline Pelletier, daughter of Clovis and Geneviève Brassard" at the parish of St-étienne de La Malbaie, Charlevoix. Félix was about 30 years old and Obéline, 18.
It was said that their marriage legitimized a daughter who was baptized in 1869 at Saint-Joseph de Lévis. However, her name was not mentioned at the time of the 1881 census at La Malbaie. Had she passed away at an early age?... At that particular census, Félix was registered as being 42 years of age and his wife Obéline 3, while their children were listed as Ernest, 12 years old, Amanda 9, Joséphine 4, Le Divine (sic) 3 and Marie, born the same year.
We know that four of their children were married in Montreal: Ernest at the parish of Saint-Jacques-le-Mineur under the patronymic of Leclerc and three daughters at the parish of Sainte-Brigitte under the name of Leclair. *Different priests, different spelling (at that time, the way a name was written, was not considered an error). It seems that Félix moved to Montreal in the parish of Sainte-Brigitte in order to practice his trade.
Félix had four known children and the descendants were expected to come from his son, Ernest and his wife which was not the case. No children were born from their union. They adopted two little boys but one passed away at the age of four. In the end, Joseph carried on the name. He and his wife had wished to have a son but on the contrary, three daughters were born. It looked that the patronymic of Leclerc would die out. But not yet.
Louisette (#1037) one of Joseph's daughters who lives on Leclerc Street at La Malbaie has accepted to be representative of Félix's descendants. For more information, she can be reached at 418-665-2230.
Writer Gilles P. Leclaire
© Tous droits réservés - associationfamillesleclerc.ca 2009