Happy 95th anniversary Mamie Maxine
Françoise, (#718)
Translation by Fernand Leclaire, (#095)
Once more this great family has gathered around their Maxine this year to express their gratitude and love for her anniversary. This ever alert and gracious grand lady was borne in St John, N. B. on June 12th, 1915. She resided in the Province of Quebec most of her life until she wed Jean-Paul Leclerc in 1935, with whom she raised five boys who, due to their careers, eventually scattered across the country.
Jean-Paul and Maxine initially lived in Quebec City before moving to Montreal. Upon retiring from the Montreal Transportation Commission they opted for a calmer life in their country estate in St-Donat, where Maxine, after Jean-Paul's demise, remained by herself until she was 93 years old. For the last two years, she has been enjoying life at the Manoir in St-Adolphe-d'Howard.
They recalled the joyous memories of their youth; of a houseful of friends, relatives and neighbours where the food was always plentiful; of a mother who was surrounded by all her children for all of their life changes and every festive occasion. Her daughter in-law, FranąŖoise (718), wishes to express for the whole family the following: ''For your constant presence in all our lives, a thousand thanks Mamie. Thank you also for being so gracious, now it is your turn to be loved. Happy 95th from your children, grandchildren, great-grandchildren, daughters' in-law, relatives and friends. From the bottom of our heart, All our Love.''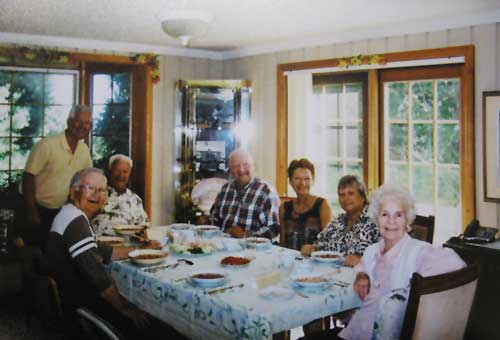 From left to right: Peter, Andrew, Henry, David, Hélène, Wally and mamie Maxine.