The Leclair Family in Manitoba
Submitted by Doris (Pilon) Lemoine,(#536)
Great grand daughter of Michel Leclair
February 1, 2008
This year the Saint-Norbert parish in Manitoba celebrates its 150th anniversary. It is is in this context that I take the opportunity to speak of my great grandparents, Michel Leclair and Annie Leroux who were prominent among the pioneer families of this village, today a suburb of Winnipeg. I am often asked why the Leclair family left Côteau-du-Lac to settle in the Canadian West. After some research, I understood, without doubt, that they responded to the invitation of Father Noël Ritchot, between 1875 and 1900, to about a hundred colonials to come and establish a parish. "The members of the Manitoba clergy, including Father Ritchot, are covering Quebec, New England , France and Belgum searching for possible francophone settlers." The French newspapers spoke highly of the life in Manitoba and in particular in Saint-Norbert. According to the newspaper Le Manitoba, "Saint-Norbert is destined to become, due to its location and natural resources, one of the riches parishes being established on the banks of the Red River." Who could resist this summons?
Michel, fils d'Antoine Leclaire and Marguerite Rousseau, was born on October 2, 1844 at Côteau-du-Lac, Soulanges county, Quebec and was baptized the following day by Father Théophile Brassard, parish priest (1835 - 1858). His godparents were Guillaume Lalonde and Catherine Leclair. His future bride Annie Leroux daughter of Pierre Leroux and Elisabeth Cunningham, was born on July 8, 1851 and was baptized the same day at Côteau-du-Lac by Father Théophile Brassard. Jean-Baptiste Cuillerier and Anny Phelan were her godparents.
Michel's father, Antoine, married Josephte Bissonnette on August 5, 1816 at Les Cédres. They had five children, being Catherine (born January 10, 1817), Antoine (born November 1818), Rose (born April 15, 1821), Josephte (born October 21, 1822) and Marcelle (born August 9, 1824). All were baptized at Les Cédres. Widowed, Antoine contracted a second marriage with Marguerite Rousseau on February 12, 1828 at Vaudreuil. Michel, my great grandfather, was born of this second union. According to the research carried out, he had three brothers, Michel, who died at an early age, as well as Antoine and Joseph.
Michel and Annie were married on May 6, 1873 at St-Ignace parish in Côteau-du-Lac. The marriage was annuled when it was dicovered a few days later "an obstacle in the third degree of the relationship". A dispensation was obtained from Mister Hypolite Moreau, vicar-general of the diocese, and the marriage was reinstated on June 4, 1873.
According to the marriage act, Michel was a day labourer at this stage. Later, his youngest son, Donat, recalled in an interview that Michel was also a coachman for Seigneur Quinquérand de Beaujeu for a while. One of his daughters, Marie Elmire had Quinquérand de Beaujeu as her godfather, and Elmire de Gaspé as her godmother. According to the 1881 Census, Michel was also a farmer.
While still living at Côteau-du-Lac, Annie and Michel had eight children, being Pierre Cyrille (born February 27, 1874), Marie Elmire (born June 4, 1875), Joseph Ovila (born October 28, 1876), Marie Anne Célestine (born May 14, 1878), Joseph Olivier (born August 16, 1879), Michel Olivier (born June 1, 1881), Marie Régina Amélia (born June 5, 1883) and Joseph Auguste Azarias (born November 21, 1884).
The advertisment of good agricultural land available in Manitoba, as well as the desire to assure a better life for his sons, no doubt encouraged Michel to sell his property at Côteau-du-Lac. He shipped his cattle and his mill by freight to Manitoba, while the family made the trip by train as far as Saint-Norbert where they were welcomed by William Campeau and his wife, Josephine.
Once in Saint-Norbert, where the couple settled, four other children were born. They were my grandmother, Marie élisabeth Agnès (born February 14, 1890), as well as Marie Rose Anna Alice (born October 16, 1891), Marie Rosina Thérèse (born September 1, 1893) and Joseph René Donat (born March 28, 1897). The children of Michel and Annie grew up on the farm in Saint-Norbert and received their catachism lessons from Father Noël Ritchot and Father Gabriel Cloutier. Most of Michel and Annie's children settled in the area of Sant-Norbert and Sainte-Anne-des-Chênes in Manitoba, with the exception of Marie Elmire who married Avit Visioz, a French teacher. They lived in Morocco and France.
Michel Leclair become the owner of lots 78 and 79 in Saint-Norbert, Manitoba and farmed the land with his sons for many years. This property is now the location of the Patrimoine Provincial Park of Saint-Norbert. Two historic houses, those of the Bohémiers and the Turennes, are located in this park and are open to the public during the summer. A third, the Delorme House, is awaiting restauration.
Michel was involved in his community and assisted, in 1912, in the initiation of the Municipality of Fort Garry. He held a seat on the Municipal Council of Fort Garry for five years. This first Council proved to be a sound administration. His son, Olivier, followed in his father's footsteps and was a member of this same Council from 1918 to 1931.
Annie, a wife and devoted mother, was also active at the parish level and took part in the first meeting of the Ladies of Saint-Anne for the Parish of Saint-Norbert.
It was too early when Annie passed away at Saint-Norbert on July 10, 1921, at 70 years of age. Michel, on the other hand, lived to 92 years of age. He died on October 8, and was buried on October 10, 1936 in the Saint-Norbert Cemetery. In his obituary published in La Liberté et le Patriote, it was mentioned that he was in Saint-Norbert for nearly 50 years.
Even if I do not carry the illustrious Leclair name, I am proud to have these courageous pioneers as ancestors who were loyal to their faith, to their language and to their heritage, at the same time contributing to the development of their new community. Today, their descendants endowed with the same sense of adventure, are spread around the world.
In closing, I invite the readers of the Clairon to add to this short history of the Leclair family of Manitoba. It will be with much interest that I will continue to read this new media about the ancestors of Jean Leclerc dit Lafleur.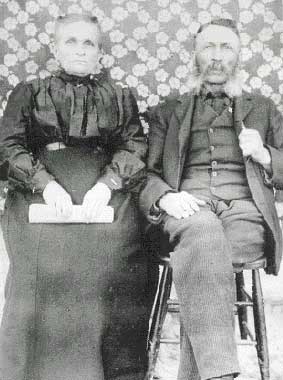 Michel Leclair et Anne Leroux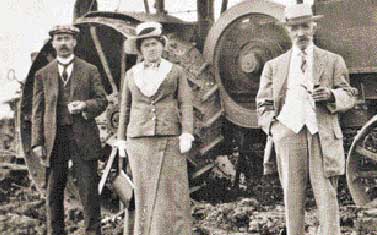 Michel Leclair à droite et sa fille Élisabeth
© Tous droits réservés - associationfamillesleclerc.ca 2009