I am a Leclerc!
Submitted by Guy Robert,(#168)
My name is Guy Robert and I have just joined the Association of Leclerc Families. You could certainly question why. Well, I have three ancestral branches which connect me with Jean Leclerc dit Lafleur and Marie Blanquet! Two with their daughter Anne and one with their son Jean-Charles.
This leads me to entertain the idea that the reach of our association is much broader than the individuals bearing the Leclerc family name and that it is important to get in touch and interest those persons.
Let us ponder on this idea for a moment. If the Nouvelle-France civil status practices and regulations had been to name newborns according to their mother's family name or based on their father's or mother's family name, according to their fancy, how would we name our association?
Rest assured, I do not want to reinvent History, simply to recognize the contribution of the Leclerc women.My maternal grandmother, the only one that I had the pleasure to know, is a Leclaire. I am a Leclerc to the same degree as an individual with the Leclerc family name. This thanks to individuals named Bouffard, Rousseau, Côté, Dupont, Martin and Robert who intervened with others, born Leclerc, in those three ancestral branches engendered by Jean Leclerc dit Lafleur and Marie Blanquet. Long live the descendants of Jean Leclerc dit Lafleur and Marie Blanquet and the Association of Leclerc Families.
Guy Robert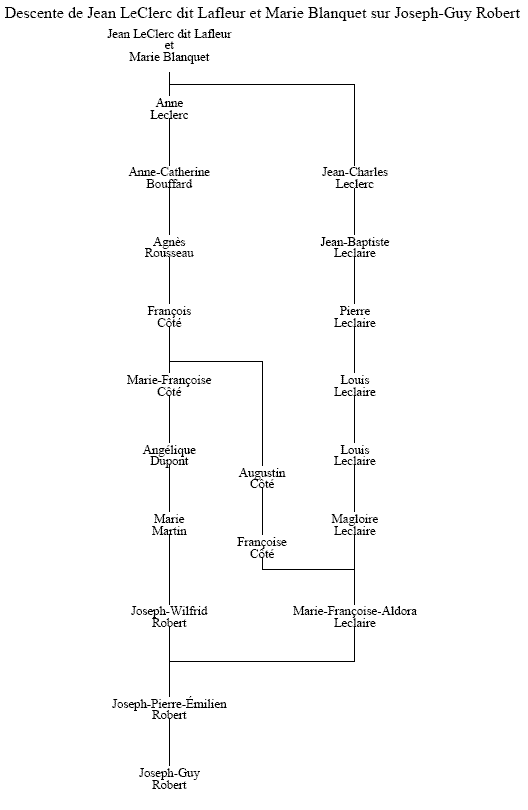 © Tous droits réservés - associationfamillesleclerc.ca 2009