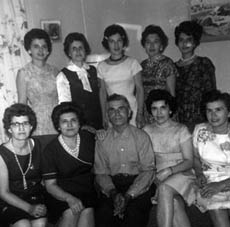 Napoléon Giroux dit Leclerc
Historians have already written about the ancestor Toussaint Giroux who has many descendants in Canada. I will try to present you a brief portrait. Toussaint was born November 2, 1633 at Réveillon, Perche in France. He came to New France around 1650 and was hired as a farmer for Sieur Robert Giffard at Beauport. He was also a weaver like his father. It was June 20, 1654 that Sieur Robert Giffard granted him his first piece of land at Beauport. Toussaint Giroux was among the first pioneers in Quebec.
September 29, 1654 he married Marie Godard, of unknown origin, at the home of Sieur Robert Giffard, Beauport. Throughout their life, they had twelve children. The name Giroux was carried on with their four sons: Raphaël (13 children), Michel (12), Jean (14), and finally Toussaint (15 children).
With great effort and labour, his estate increased over the years. At the New France census in 1681, the Giroux owned 3 rifles, 12 horned animals, 1 mare and 53 acres of cleared land. Toussaint Giroux passed away February 15, 1715 at Beauport. He was 82 years old.
The Giroux lineage which began with Toussaint I, and continued with Toussaint II, Toussaint III, François IV, François V, Charles-François VI, François-Xavier dit Olivier VII, Elzéar VIII to finally reach Napoléon IX who was the one responsible for the change of his family name.
January 7, 1901, Napoléon Giroux, married Philomène Gagné, daughter of Augustin and Philomène Ponsant at the parish of Saint-Odilon-de-Cranbourne, Dorchester. Napoléon Giroux dit Leclerc, remarried May 29, 1923 with Louisa Fontaine, daughter of Marcelin and Aurélie Bilodeau, widow of Napoléon Labrecque, at the parish of Saint-Patrice de Magog, Stanstead county. Afterwards, his descendants used the patronymic of Giroux dit Leclerc or Leclerc. What was the reason to replace the Giroux by Leclerc? Gaston Leclerc (#1046) gave us the answer. Napoléon changed his name Giroux to Leclerc when he ran away in order to avoid enrolment in the Armed Forces during World war I from 1914-1918.
If you have any questions or information about Napoléon, please contact: Gaston Leclerc (450-438-9072) or e-mail courriel.
Par Gilles P. Leclaire (#037)
Writer Gilles P. Leclaire
© Tous droits réservés - associationfamillesleclerc.ca 2009