Leclercville, Québec
Submitted by Gilles P. Leclaire, (#037),
Translation by Denise-Rose Leclerc, s.a.s.v. (#187),
St. Emmelie's parish of Leclercville, in Lotbiniere county, celebrated it's 100th anniversary on June 29, 30 and July 1st, 1963. The Leclerc families' annual meeting was held there to mark the occasion and even the rain did not spoil the fun.
The name "Leclercville" was chosen in memory of Pierre [VI], son of Michel-Clement [V], who donated the land on which the magnificent church was built. The son of Pierre [VI], Pierre-Norvegeus [VII], was the first municipal secretary-treasurer and his other son, Pierre-Milem [VII] was the mayor and Prefect of the county.
The first Leclerc of St. Emmelie was Michel-Clement [V] who was baptised in Lotbiniere on January 4th, 1765. He was the son of Michel [IV], Jean-Baptist [III], Adrien [II] and Jean [I] Leclerc (Lafleur) and Marie Blanquet. Michel Clement [V] was the ancestor of our national singer, Felix, and of our only member still living in Leclercville, Clement (#149) whom we want to greet.
Leclercville is only a few kilometers from Deschaillons on the south shore of the St. Lawrence River at the mouth of Du Chene River. From a touristic point of view, this place is interesting and is worth seeing. It brings us back to the time when the Lords created villages. You can stop at two sight-seeing spots to appreciate the scenery.
In 1683, a Frenchman spotted that part of the land, but the first group of settlers arrived around 1720. It was believed that the Acadians, forced to leave their country, had been the first to settle at St. Emmilie, but in fact they came only in 1758 and developed the land along St. Michel's country road. Michel-Clement married Marguerite Beaudet, one of those Acadians.
The census of 1762 tells us that Michel Leclerc is the farmer living closest to the Du Chene River, while his brother, Joseph, lives on the opposite shore of the river. At that time, the people of that territory went to St. Louis of Lotbiniere for mass and other religious services. The decree to establish St. Emmilie's parish was signed on September 25, 1862. The church is unique and beautiful.
On route #132, one mile east of Leclercville stands a monument in memory of the St. Emmilie settlers. All the descendants of Jean Leclerc and Marie Blanquet should drive on that road to visit Clement (#149) and enjoy the scenery of the St. Lawrence River and the impressive cliffs.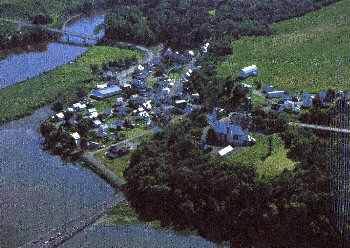 Leclercville, Que.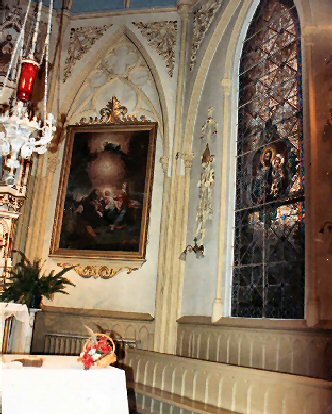 L'Église St-Emmelie Church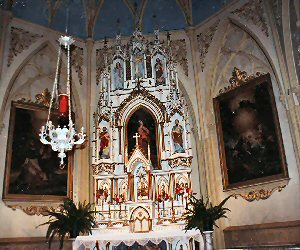 L'Église St-Emmelie Church