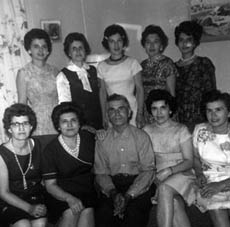 Leclerc dit Lafrenaye
In the biography of François Séguin, a Carignan Regiment soldier, it is noted that, about 1668, the governor asked Saint-Ours to raise some troops to be assigned to the garrison at Ville-Marie. François Séguin, Thomas Neveu, Jean Clerc and Luc Poupard, plus others, left the stronghold of Saint-Ours to assist in the defence of Ville-Marie. This Jean Clerc later become our Jean Leclerc dit Lafrenaye, and carried a surname like the rest of the militia in that period. At the baptism of his daughter, Marie-Geneviève, he was called Jean Clere-Lafrenaie, which confirms that he was present in 1668.
On January 23, 1706, at Saint-Ours, before notary Pierre Benoit, Jean Leclerc dit Lafrenaye, about 41 years of age, from LaBenate, 8 kms from St-Jean d'Angély, Saintonge, France signed a marriage contract with Geneviève Circé, age of 21 years, and the daughter of François Circé, sieur of Saint-Michel, a surgeon and a soldier of the Quebec garrison, and Marie-Madeleine Berthelot. It is said that Jean was a soldier for Mr. Saint-Ours, as a captain of a company of the Carignan Regiment, or a member of the King's Navy, but we believe the last occupation to be correct.
The number of high ranking military who sponsored his children, and the small area of his property under cultivation, leads us to believe that he continued in the military after his marriage. In the census of May 15, 1745, at Saint-Ours, his widow occupied land that was four arpents in frontage by forty arpents in depth, of which seventeen and a half were arable and two were pasture, on which he had built a house, a barn, a stable and a pigsty. In addition, as we could not find a trace of the baptisms of four of their ten children, it seems to indicate that he accepted military postings outside of the province.
Our ancestor, Jean Leclerc dit Lafrenaye, witnessed the burial of his mother-in-law, Marie-Madeleine Berthelot on June 5, 1739 at Saint-Ours, as he did for about fifteen other persons in the same parish. He became a verger in his later years. He died on July 18, 1740, at 75 years of age. We can say that they were very active in the community; Geneviève gave birth to the children, and he would bury them.
Geneviève married a second time, at the age of 78, at Contrecoeur, on November 16, 1763, Jean-Baptiste Vel-Sanssoucy, who then passed away on March 12, 1778 at Saint-Ours. She was buried on January 4, 1772 at the age of 88. Geneviève stood as a sponsor 21 times in her life, indicating that she was probably a midwife. As her father was a surgeon, this makes it even more plausible.
Three of their sons, Alexis, Jean-Baptiste and Joseph perpetuated their legacy. Not being a historian, and the little that has been documented on this ancestor, does not allow me to be more explicit, but give you enough to tweak your curiosity.
We acknowledge three of our members of this line: Jean-Louis (#007), Josée (#175) and Marcel (#190). For more information, please contact the author at 450-453-9387, or Josee Leclerc.
Writer Gilles P. Leclaire
© Tous droits réservés - associationfamillesleclerc.ca 2009