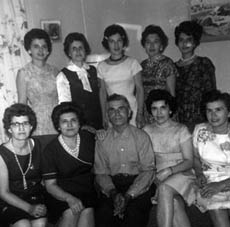 Leclerc dit La Bécasse
The first mention of this ancestor was during the census of New France in 1667. He was just 16 years of age and a domestic for Jean Soulard, a master gunsmith and cannonier in Quebec. Robert was one of the few pioneer ancestors that made a living from his occupation without maintaining a working farm. We don't know with whom he apprenticed as a carpenter. As early as March 20, 1672, at 21 years of age, he was at a notary purchasing his first property.
He was an extremely industrious man, keeping the notaries busy with his numerous construction contracts. From carpenter, he became a master carpenter, then a contractor and a middle class businessman. He was named a "King's Carpenter", a distinguished honour, and a very profitable one for a carpenter, for the Quebec government. Following in his foot-steps were his son Jean-Baptiste, and his grandson Jean-Baptiste, who, also named a "King's Carpenter", did contracts for the government of Trois-Rivières.
On July 9, 1680 at the parish of Notre-Dame de Quebec, Robert Leclerc, 30 years of age, from the parish of Saint-Eloy in Rouen, Normandy wed Marie Jalais, a "King's Daughter", 27 years of age, from the parish of Saint-Martin, Île de Ré, Aunis, France, the widow of Jean Lauzé dit Matha and a mother of four children. Robert purchased a property on Saint-Louis Street on July 28, 1680. They had ten children together. His Leclerc legacy was assured by his three sons, Jean-Baptiste, Pierre and Louis, to whom he passed on his carpentry skills.
On the Quebec City census of 1716, at 70 Sainte-Anne Street we find Robert Leclerc, carpenter, aged 65 years and Marie Jalais, his wife, aged 60 years. None oftheir children were living with them. Marie-Marguerite, his daughter, married to François Charley dit la Valens, carpenter, is a neighbour at 71 Sainte-Anne Street. Robert was a partner in business with this family.
On the death of Marie Jalais, December 8, 1721, he settled all his accounts with his family partners and left Quebec, establishing himself at the home of his son, Jean-Baptiste, in Trois-Rivières, the town where he had erected the framework of the church in 1712. On July 5, 1731, our ancestor, Robert Leclerc, the most celebrated name in his occupation, died and joined his loved ones.
On January 28, 1839 at Saint-François-Xavier of Sault-Saint-Louis, Genevieve Leclaire, daughter of Nicolas Leclaire (a direct descendant of this ancestor) and Elisabeth Hébert, wed Ignace Kataraterha, the son of François-Xavier Tehohiateken and Catherine Tsiwenhenhon. Genevieve and Ignace were the parents of François-Xavier Katarakenat dit Leclair dit Beaudet, who married Marie-Anne Nitiohionha McGregor. This François-Xavier Katarakenat had several children who were married in the same parish under the surname Leclaire and Leclair dit Beaudet. Who would believe that our ancestor Leclerc would have Mohawks among his descendants.
In the summer of 1926, at Number 15 of the 12th concession road of Princeville, they erected a monument in honour of Robert Leclerc, bourgeois, and his wife Marie Jalais. It was also to honour Edouard Leclerc, one of his descendants who was the first settler and founder of the Township of Stanford (Princeville) in 1832.
Several individuals of this line attained notoriety, but for us, we greet the descendants of this Leclerc ancestor who are members of the Association, namely: Paul O. (#179), Guy (#210), Juliette (#223), Fernande (#256), Suzanne (#203), and Suzette (#206) President of the Lanaudière Genealogical Society. Micheline (#202), also in this line and former President of the Sherbrooke Genealogical Society for ten years, has offered to help anyone who wishes to learn more of this ancestor. She can be reached at 514-356-0334 or by e-mail at Micheline Leclaire. The author, Gilles, is also available.
Writer Gilles P. Leclaire
© Tous droits réservés - associationfamillesleclerc.ca 2009