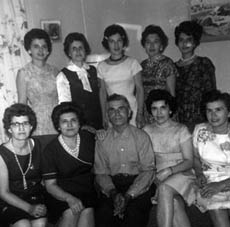 Julien Leclerc
Born in the province of Brittany, France, around 1721, son of Jacques Leclerc and Marie Bezard, from Taden, diocese of St-Malo Brittany. He contracted marriage before Barolet notary on August 30, 1747 with élisabeth Sévigny, minor daughter of Charles de Sévigny alias Lafleur sailor, and Thérèse Moran. He married her in Québec City on September 3, 1747. From their union five children were born but only four survived.
He arrived in New France on August 29, 1741 with the ship transporting the sixth Bishop of Quebec City, Mgr. Henri-Marie Dubreil de Pontbriand with all his clerical staff, all of them were Bretons. He filled the posittion of butler at the Bishop's Palace. The wedding contract was written in a Bishop's Palace room in presence of his employer Mgr. de Pontbriand, Mgr. de Villeangevin canon of the Quebec Notre-Dame parrish and a few notable persons who came to advise him. His bride-to-be was also accompanied by her father and by some relatives as advisors. Julien was especially generous, granting as dower the sum of one thousand French pounds which shows a comfortable financial position.
The marriage was celebrated on September 4, 1747 in the Bishop's Palace chapel presided by Mgr. de Pontbriand himsel. The marriage certificate was written by Jacreau parrish priest and Director of the Quebec Seminary. We consider that Julien was about 26 years old when he got married. We do not know exactly when he left his job as butler but he became merchant, importing and selling clothes.
We ignore what caused his death which occured on June 30 1756. F.X. Récher priest, wrote the burial certificate, stating that Julien had past away fortified with the last sacraments of the Church and was about 35 years old. His wife was then pregnant and gave birth to their last child on July 8. One of his sons Jean-Baptiste settled in the Montmagny-L'Islet-St-Jean-Port-Joli region. His other son, Louis-Julien and his descendants moved east near Madawaska (New Brunswick-Maine) region.
His widow Élisabeth Sévigny got married a second time on September 21, 1761 to Thomas Caret also a widow with four children. No descendants were born from this union. She died at the age of 73 on May 23, 1801. Concerning the descendants of Julien, we must emphaze that some members of this family became famous in the industrial sector, a good example is the Nilus leclerc Family of L'Isletville. They were specialized in manufacturing weaving looms which were sold all over the world and also in church furnitures all over Canada. This family business which was established in 1906 by Léonius alias Nilus Leclerc was afterwards managed by his son Robert until 1986. Then, it was sold to the Brassard Family in 1995. Robert was president of the first Leclerc Family Association in the 1960 years.
Writer Christian Leclerc # 009 and revised by Maurice Leclerc #55. Translated by Maurice Leclerc #55, revised by André Bourgeois.
© Tous droits réservés - associationfamillesleclerc.ca 2009