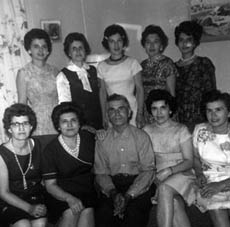 Guillaume Leclerc
This ancestor was originally from Rouen, Normandy. In 1666, he arrived at Ville-Marie as a volunteer. Did he come to New France under contract, or on his own? To this day, the answer is still not known. He obtained his first property at Lachenaie in 1673.
On November 24, 1676, Guillaume, aged 31, married, in Notre-Dame de Montréal, one Marie-Thérèse Huneault, aged 13, the daughter of another pioneer, Toussaint and his wife Marie Lorgueuil. The difference in age and the youthfulness of his wife was a common occurrence in the early days of the colony.
In the 1681 Census, it states that he was established in the Siegneury of Repentigny, and owned three horned animals on eight arpents of arable land, a situation very similar to many of their neighbors.
The seventh child of Guillaume and Marie-Thérèse was born on June 14, 1689; on August 17, 1689, Marie-Thérèse was found cruelly slain in their barn following a raid by the Iroquois. Our ancestor found himself alone with seven children, the oldest just eleven years of age. He remained a widower the rest of his life.
The following year, on September 13, 1690, his father-in-law, Toussaint Huneault, was cowardly assassinated by Baron Dumont, a lieutenant of a Marine detachment. The death of his wife and her father exemplifies the events in the history of Ville-Marie and of New France.
In time, Guillaume received two concessions of land on Île-Jésus (Laval) in the area of St-François-de-Sales, which he developed, in addition to the property at Lachenaie. If you happen to meet a Leclerc/air/aire in the Montréal region, you stand an excellent chance of speaking with a descendant of Guillaume Leclerc.
It is due to men such as Guillaume that our Country has flourished. I want to take this opportunity to introduce some descendants, as well as members and friends: Liguori (#231), Claude (#238), Eric (#232). Louise (#193), a genealogist and historian is willing to assist you with your research of Guillaume and his descendants. She can be reached at 450-965-0637, or by Internet at Louise Leclerc
Writer Gilles P. Leclaire
© Tous droits réservés - associationfamillesleclerc.ca 2009