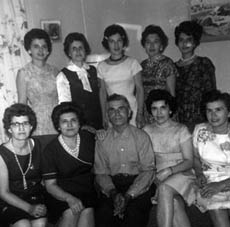 Florent Leclerc
Florent Leclerc is the patriarch of the oldest Leclerc family of New France. Originally from Braye-sous-Faye, in Angers, Anjou, France, Florent signed a marriage contract on January 24, 1658, then married in Trois-Rivières on February 4, 1658, Marie Gendre, about 38 years of age, the widow of Jean-Baptiste Bourgery and the mother of four young children. All the elite of Trois-Rivières attended their marriage. He had arrived in New France very late in the 1657 navigation season, and she in 1652.
Florent and Marie conceived three children before Florent passed away in January 1664 at the age of 44 years. His descendants are all through his son, Jean dit Cap-Breton. Florent was a farmer and, like the other farmers in his area, he took refuge each night in the fort at Trois-Rivères. He lived at 931 de la rue Saint-Pierre.
We have to tell you of the son of this patriarch: Joseph-Florent Leclerc. The Grand Vicar Charles-Olivier Caron stated that the voice of this man was such that an outburst from him crossed the river with a force that burst the eardrums of the farmers on the southern shore. The historian, Sulte, confirmed the story of this master tenor's singing being heard at least two miles away.
If the Leclerc reputation for a powerful voice is legendary, the descendants of Florent are also famous, in the XVIII century, as master gunsmiths, surveyors, churchwardens and captains of the militia. These occupations seem very normal and common today, but, in their time, they were entrusted to the elite.
On Florent's death, Marie Gendre first stayed alone with her seven children. Then, nearly two years later, on November 12, 1665, she signed a marriage contract with Nicolas Massion dit Champagne, who died very shortly afterwards. On February 21, 1667, she married François Michelot, who also passed away without leaving any descendants. Then, she wed a fifth time to Jean Lamarche. This couple had no children of their own, but raised the seven children of her previous unions. She died at Trois-Rivères on January 2, 1699 at the age of 80 years.
The descendants of this ancestor are also known by the surnames of Clair, Clerc, Fleurant, Florent and Blondin. Even though this line has numerous descendants, we have only one representative in the Association: René Blondin (#235). It goes without saying that the author would greatly appreciate obtaining the genealogical tree from other members of this fine family.
Writer Gilles P. Leclaire
© Tous droits réservés - associationfamillesleclerc.ca 2009