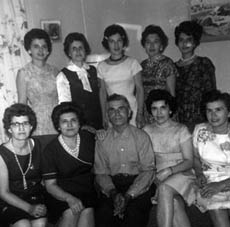 Pierre Leclair (É.U. d'A - USA)
On the 25th of October 1753, Jacques-Hyacinthe-Simon Delorme dit Lapointe bought a large parcel of land called the seigneury of Maska on the Yamaska River. He was a businessman and wood dealer for the King's Navy residing in the town of Quebec. This coveted property, covered in mature trees, was purchased to harvest lumber for the shipbuilding trade. In the summer of 1757, Delorme accompanied by his staff and several hired hands, set up on a site that had abundant oak and pine trees in the area called Rapides-Plats or Flat Rapids. The site was close to the river's edge to provide good transportation and water power for his sawmill.
On January 26, 1761, Pierre Leclerc, about 41 years of age, and the son of Jean-Baptiste Leclerc and Marie-Antoine Baton from Fergeux Parish in the diocese of Reims in Champagne, wed in tne Parish of Saint-Pierre-de-la-Rivière-du-Sud, Marie-Anne Lavois, about 24 years old, and the daughter of Antoine de Lavoie and Marie-Françoise Pelletier, and born in Kamouraska.
They settled at "the flat rapids" on the Yamaska River in the seigneury of Maska which was later named Saint-Hyacinthe, one of the given names of the seigneur or lord. They had six children in nine years. Marie-Anne no doubt died on March 15, 1770 at the birth of their last child, Marie-Claire, as we have no record of their deaths.
On August 29, 1763, Seigneur Delorme legally passed the title of the property at this location to the clearing and forestry workers who came to Flat Rapids with him. Delorme named this seigneury Saint-Hyacinthe in honour of one of his patron saints. All indications are that our ancestor was one of the hired hands that obtained a portion of the property.
Not being able to raise his young children alone while completing his work, Pierre wed again on July 22, 1771 at Saint-Michel de Yamaska parish, Catherine Badaillac dit Laplante, born in Saint-Michel de Yamaska parish and 22 years of age. She was the daughter of Pierre-Ignace Badaillac dit Laplante and Marie-Françoise Demers. Adding to his sorrow, she also died of unknown causes on May 7, 1772, leaving no descendants. She was buried in the cemetery at Saint-Michel de Saint-Hyacinthe. Pierre LeClerc is supposed to have lived all this time at Flat Rapids.
Again seeking to find a mother for his young family, he married a third time. His third marriage was on August 17, 1772 to Marie-Hélène Letendre-Desmarais. She was the daughter of Pierre Letendre-Desmarais and Madeleine Guévremont. According to the ages given in their burials documents, she was 30 years of age and he was 50 years of age when they married.
We know three sons of his first union with Marie-Anne were: Antoine and Hyacinthe who stayed in the Saint-Hyacinthe area and Jean-Baptiste who married Thérèse Catin in Detroit. The three sons as well, from the union with Marie-Hélène, perpetuated the Leclerc name in the St-Hyacinthe area, that is to say Michel, Pierre and Basile.
There is something very curious for the genealogists; Marie-Hélène was named Latendre at her marriage. At the baptisms of her three sons, she is documented with her given name only, a practise usually reserved for Amerindian women. Basile, the third child, was noted at his baptism, "father and mother unknown". After this, all records show the name Hélène Desmarais.
Jean-Baptiste, son of Antoine(first marriage), decided to seek his fortune in New England, with his wife and children, Cyprien and Hilaire. It is they that adopted the names LeClair and King.
On November 22, 1814, our ancestor, Pierre Leclerc, husband of Hélène Desmarais, died at the respectable age of 94. He was noted as a farmer and a resident of Saint-Hyacinthe. He was buried the next day in the same parish. On March 23, 1829, Hélène Desmarais, widow of Pierre Leclaire of Saint-Hyacinthe, passed away in due course. She was 87 years of age. She was buried two days later in the same area as her husband.
Most of this preceding information was furnished to us by Larry P. Barrows, the son of Janice Carol LeClair, a descendant of this ancestor, Pierre Leclerc dit Leclair. He is member #340 and has graciously accepted the responsibility for this line with the author. He can be contacted at Larry Barrows.
Writer Gilles P. Leclaire
© Tous droits réservés - associationfamillesleclerc.ca 2009