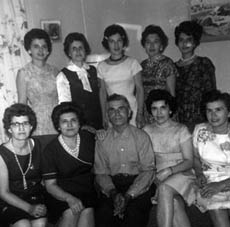 Comeau dit Leclerc
In this 353thyear of the Acadian Deportation, it seems appropriate to highlight the instance of another Leclerc branch. Following the terrible event, the English, at that time, burned many of the parish registers so that it is nearly impossible to find exact dates about events in the life of colonial Acadians. Numerous historians have researched thoroughly the available Acadian histories, but have been thwarted in their efforts.
Pierre Comeau was born about 1597 at Bourgogne, France. He landed at Port Royal (Annapolis, Nova Scotia) between 1632 and 1649, the date that he married, aged 52, one Rose Bayols, aged 18, with her parents unknown to us, at Port Royal. Like many of the colonials, they had to till the land to ensure the family's survival, as well as have a trade to contribute to the welfare of the community. In his case, Pierre was a "tonnelier" (a barrel-maker or a cooper), a very necessary occupation, and very much in demand during that era when most items were conserved and transported in barrels. It was in this environment that six children were born to them.
One of his sons, Pierre, also known as L'Esturgeon, married Jeanne Bourey in 1677. In 1695, he swore allegiance to the English Crown who took possession of Acadia until 1697. This gesture allowed him to live in peace. About 1704, they gave birth to Ambroise who married Marguerite Cormier in 1732 at Port Royal. This couple settled in Chipoudie on Chignectou Bay. It was there that they received the general order from the English, on August 9, 1755, to gather at Fort Beausejour and prepare for deportation. Ambroise and his family slipped away into the forest, going first to Port-la-Joye on Prince Edward Island, then to La-PetiteRochelle (Restigouche), then to Nipisiquit (Bathurst). In 1761 they were staying at Bonaventure. Finally, they found a property in Tracadie (Carleton) and also found peace.
Their son, Jean, was the first to adopt the surname of Clair, and, in turn, their son, Jean, assumed the name Clair and Leclerc. No one can explain this surname transformation better than Suzette, a member of the Association (#207) on her Internet site GenInfo, in her article "Mumure du passé". She is president of the "Société de généalogie de Lanaudière".
I don't believe that I have the competence to prove all the qualities and values of the Acadian people, but I know from talking to some Comeau dit Leclercs that they are extremely kind, and that they would receive a gathering of Leclercs at La Baie-des-Chaleurs with unparallel hospitality. Here are the members of the Association from this kindly line: Raymond (#111), Raoul (#126), Charlotte (#145), Lucie (#226), Roland-Charles (#227), Lucille-Madeleine (#228), Réjean (#265), Monique (#274), Jess (#281), Billy (#282), Steve (#283), Michel (#285), Hervé (#321), Myrtle (#325), Xavier (#326), Rose (#444), Isabelle (#459), Marie-Josée (#464), Daniel (#479), Roger (#483), Rolande (#539), Sylvain-Marc (#571), Joseph-David (#576), Gérard (#581), Kevin (#616), Raymond (#637), Michel (#658), Raymond-Bernard (#674), Réjane (#665) and Louise (#225) a knowledgeable genealogist, as well as responsible for this line of Leclerc who assures me that she will help members of the Association who have questions on this line. She can be reached at 418-843-7119.
To the Comeau dit Leclerc, welcome.
Writer Gilles P. Leclaire
© Tous droits réservés - associationfamillesleclerc.ca 2009